Tom Baker has been doing construction work his whole life. Instilled with a strong New England work ethic, Tom is a born problem solver and will often find creative solutions to problems work  throws his way. He takes great pride in his work, and approaches it in a thorough, methodical manner with a close attention to every detail. A Jack of all trades, his specialty is seamless gutters. He is devoted to ensuring each customer is thoroughly pleased with the work he does from start to finish.
Cynthia Baker began her career as an office manager for a successful local company. Applying her skills to her own company brought it to the next level through improved organization, better customer service, and an expanded network of professional partnerships and contacts. She developed new relationships with the industry's leading suppliers of the highest quality materials. Cynthia understands that new customers call with many questions about a job, and she will put people at ease by thoroughly answering their concerns. Like Tom, Cynthia delights in a job well done, and knowing their customers are happy.
Tom and Cynthia love spending time with their family, including their many rescued pets. They are especially proud of their three beautiful teenagers, all quite accomplished in their own rights.
Our wonderful employees are an extension of our family, and possess both the skills and integrity that we have come to be known for.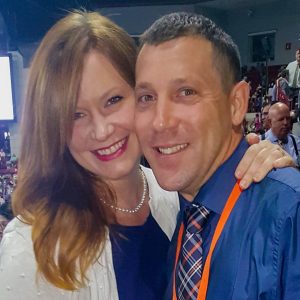 Tom and Cynthia Baker
Owners
"The most important criteria for anyone working on my home is that they can be trusted. Tom is that person. He arrived when he said he would and finished the job quickly, even when the weather did not cooperate! His quotes are more than fair and the quality if his work is outstanding. Tom went above and beyond by locating just the right drainpipes to keep the water away from my home. I highly recommend Capital Home Improvements for your next home project."
"We recently had new gutters installed on our house by Capital Home Improvements. We absolutely love the way the gutters look and how it dresses up our house! Tom recommended not only a certain kind of gutter but also a certain color that we never thought of using at our house and it looks absolutely fantastic. Not only was he very easy to deal with but extremely personable and finished the job in a timely manner. And unlike most construction companies that often times leave scraps and trash around the yard everything was cleaned up like he was never there and for me that's a huge plus."
"We were delighted with the new gutters Tom installed. As the owner he takes real pride in his work! Very neat installation and he took the old gutters away. Highly recommend Tom and Capital Home Improvements."
"Excellent customer service, work & price. Had front and back gutters installed. Quality materials! "
"Tom was great to work with from the first phone call. He came out to give a quote, and was knowledgeable and professional. He and his assistant were very friendly on site, and even helped me take my recycling to the street! The gutters look amazing, they're custom installed, and after our last rainstorm I can say they make a world of difference. You don't think about gutters until you need them, but when you do, he's a pro. 10/10 recommend him!"
"We had Capital Home Improvements put a new gutter on the overhang in front of our door. They were friendly, knowledgeable, prompt, organized, and their work was perfect. We would be happy to recommend them and would gladly work with them again."